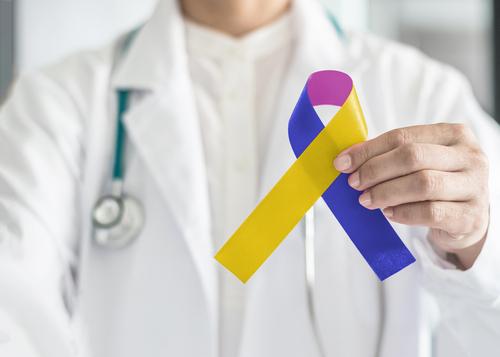 When small cell lung cancer is caught early, surgery may be able to remove much of the malignant tissue, and chemotherapy and radiation may be used to kill the remaining cells. However, this type of cancer is rarely caught early. Instead, symptoms appear only after the cancer has spread. That does make it difficult for chemo to cure small cell lung cancer.
When a patient is diagnosed with extensive-stage small cell lung cancer, the cancer is generally so advanced that surgery is not an option. Doctors cannot possibly remove all the cancerous cells. Instead, they prescribe chemotherapy in hopes they can shrink the tumors and control the cancer's progress.
Chemotherapy Is Generally Part of the Treatment Protocols for Small Cell Lung Cancer
According to the American Cancer Society, the type of treatment used to try to cure small cell lung cancer greatly depends on how far the disease has spread by the time it has been identified. However, as noted in the March 2012 issue of Oncology Review, chemotherapy is generally a part of the treatment plan, no matter the stage of the disease. Doctors will determine the best course of treatment depending on the type of lung cancer a patient has and how far it has progressed.
Limited-Stage Small Cell Lung Cancer
Sometimes, it is possible to diagnose small cell lung cancer during its initial stage before it spreads. This is called limited-stage small cell lung cancer. Surgical removal may be possible in some cases.
No matter if surgery occurs or not, chemotherapy is used to attempt to cure small cell lung cancer. It is often given at the same time as radiation therapy during a process called chemoradiation. This can kill the remaining cancer cells and give the patient the best chance at remission and recovery.
Early detection may occur because the patient develops related symptoms or because of routine screenings recommended based on their history of asbestos exposure. If you knowingly have come into contact with asbestos at any point in your life, discuss it with your doctor to determine if you may need this type of screening.
Extensive Stage Small Cell Lung Cancer
Since small cell lung cancer is usually at the extensive stage when diagnosed, surgery and radiation are rarely used as first-line treatments. They work better when there is a small target area. Instead, chemotherapy is generally prescribed. Immunotherapy is also sometimes used.
These treatments can limit the progress of the disease and shrink the size of the tumors. This may extend the patient's life and ease their symptoms, although this is not considered a cure for this type of cancer.
Ongoing Treatment and Prognosis Depend on Several Factors
There are several reasons why your doctor may need to prescribe different or stronger chemotherapy drugs to fight your small cell lung cancer. This includes:
The cancer gets worse despite treatment.
The cancer does not respond to the initial treatment.
The cancer comes back quickly following treatment.
The patient has an adverse reaction to one of the drugs used.
In some cases, doctors may repeat treatment with the same chemotherapy drugs used during the first round. This is most likely if there is a significant delay, such as six months or more, between the completion of treatment and the time the cancer returns.
Other treatment possibilities if the cancer returns or does not respond to chemotherapy include clinical trials. Advanced cases may call for palliative care to reduce symptoms and ease the pain.
The overall five-year survival rate for patients with small-cell lung cancer is 23%, according to statistics from the American Cancer Society. The survival rate varies greatly depending on how the disease reacts to treatment. For example:
If the cancer is localized to one spot in the lungs at diagnosis, 60% of patients will survive for five years.
For those with distant metastases at diagnosis, only 6% survive for five years.
In about 50% of cases, small cell lung cancer with distant metastases spreads to the brain. This reduces life expectancy to under a year.
These statistics reflect medical research and data taken from patients' survival rates. The percentage of survival rates may vary per person based on the extent of their illness and how their body responds to treatment.
For a free legal consultation, call (800) 217-6099
Your Small Cell Lung Cancer Diagnosis May Qualify You to Take Legal Action Against an Asbestos Company
You may be eligible to pursue compensation in the asbestos mass tort if you have a history of documentable asbestos exposure and a small cell lung cancer diagnosis. You should not have to face financial consequences today because of the asbestos exposure you experienced decades ago.
Call Pintas & Mullins Law Firm today about your asbestos cancer case. We believe the asbestos companies should pay for your treatment and care, not your family. We do not shy away from tough cases. Let us review the facts of your case and help you understand your options for pursuing a settlement or award today. Our clients never pay anything out of pocket.
Dial (800) 217-6099 now to speak with a member of our asbestos lung cancer team.
Call or text (800) 217-6099 or complete a Free Case Evaluation form