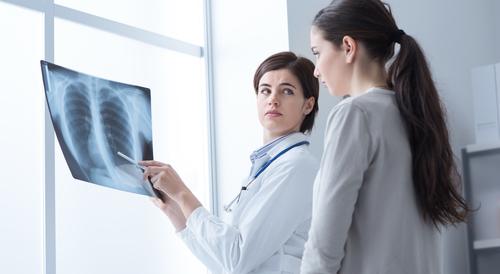 Mesothelioma is a type of cancer that affects the lining of the lungs as well as the lining of the chest cavity. In fewer cases, it affects the lining of other organs or body areas, such as the heart, abdomen, testicles, and ovaries. Pleural mesothelioma, the type that grows on the outside of the lungs and lining of the chest cavity, is strongly linked to asbestos exposure. Mesothelioma cancers have an extremely long latency period, usually developing at least two decades after the person's first asbestos exposure, according to the Mayo Clinic. In some cases, it can take as long as 60 years since the person's asbestos exposure.
The prognosis for pleural mesothelioma offers little hope for patients, as noted by the Agency for Toxic Substances and Disease Registry. Even if caught early, which rarely happens, pleural mesothelioma does not allow most patients to live beyond one to two years. The life expectancy remains low even with the most aggressive treatments. The median life expectancy for someone with pleural mesothelioma wavers between 8 and 14 months. Two-thirds of people with this diagnosis of cancer of the lining of the lung live a little under a year after their diagnosis.
Understanding Malignant Pleural Mesothelioma
In its earliest stages, pleural mesothelioma shows no symptoms. Only after it spreads throughout the chest cavity does it begin to cause complications. According to the American Lung Association, the most common symptoms of malignant pleural mesothelioma include:
Shortness of breath and difficulty breathing.
Chest pain, especially when breathing in deeply.
Increased effort required to take the same size breath.
A dry, persistent cough.
Frequent chest and respiratory infections and concerns, including colds and possibly pneumonia.
As the cancer spreads throughout the body, more general symptoms may occur. These general symptoms may not signal a case of mesothelioma without additional symptoms involving the respiratory system. General symptoms of advanced mesothelioma may include:
Unexplained weight loss.
General, extreme fatigue.
Low-grade fevers.
Some people have no idea they have cancer proliferating inside them and on the lining of the lung until they experience a sudden, painful, and scary pleural effusion. This happens when the pleural space fills with fluid, preventing their respiratory system from functioning properly.
A pleural effusion forces the victim into the hospital, where medical imaging eventually indicates an unknown mass in the chest. The doctor performs a biopsy to diagnose pleural mesothelioma, and a positive result confirms their case of pleural mesothelioma.
Unfortunately, less than 15% of these cases involving cancer of the lining of the lung receive attention before symptoms develop. Symptoms only develop after the cancer spreads, often ruling out the most effective treatments for this condition.
Pleural Mesothelioma in People Exposed to Asbestos
Pleural mesothelioma occurs as a result of asbestos exposure. Researchers have found no other cause of this type of cancer. Asbestos products could affect people who had high levels of exposure over a short period of time or low levels of exposure for long periods. Even people with moderate exposure may develop this type of cancer. Many people who develop mesothelioma also have asbestosis, or lung tissue scarring that occurs with heavy asbestos exposure.
As exposure increases, the risk of mesothelioma increases as well. Some research implies that amphibole asbestos fibers may cause mesothelioma more than other types of asbestos fibers. Regardless, all types of asbestos fibers can lead to pleural mesothelioma.
For a free legal consultation, call (800) 217-6099
Discussing Your Case with Our Team
Proving the connection between your cancer of the lining of the lung diagnosis and your history of asbestos exposure may require a simple first step of obtaining a copy of your relevant medical records and showing that asbestos fibers existed in the tissue removed for the biopsy that confirmed your diagnosis.
At Pintas & Mullins Law Firm, we may be able to help you prove the connection between your diagnosis and asbestos exposure to recover compensation for your suffering. Our legal services may include:
Evaluating your case.
Explaining asbestos trust funds and the claims process.
Obtaining the necessary evidence.
Building a compelling case.
Filing a claim and/or an asbestos lawsuit.
You can reach a member of our asbestos cancer team by calling (800) 217-6099. We work on a contingency-fee basis, so we will review your case for free and only collect payment if we secure financial awards on your behalf.
Call or text (800) 217-6099 or complete a Free Case Evaluation form