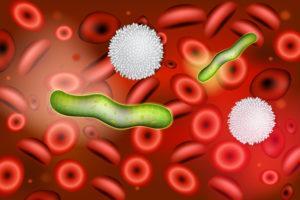 Medical professionals use three stages to categorize the progression of sepsis. You can also use this as a barometer to determine signs of sepsis in the elderly. These stages are as follows:
Early stage: your loved one has a fever, fast heart rate, or rapid breathing.
Severe sepsis: your loved one exhibits acute confusion, noticeably lower amounts of urine, difficulty breathing, and organ malfunction.
Septic shock: your loved one shows all the symptoms of severe sepsis but also has very low blood pressure that does not respond to fluid replacement.
Sepsis is a serious medical condition that starts with an existing infection. Instead of your body attacking the infection, it attacks your internal organs. Sepsis is especially dangerous for the elderly due to factors associated with aging like a weakened immune system and other conditions, such as diabetes or cancer.
Sepsis is treatable if caught early hence why it's important to be able to detect signs of sepsis in the elderly. Nearly 270,000 people die of sepsis in the United States each year.
Knowing the signs of sepsis in the elderly is essential to getting your loved one the immediate medical attention they need.
Important Sepsis Facts
Diagnosing sepsis is not always easy due to the fact that the symptoms are similar to other medical conditions. However, catching this condition as soon as possible is extremely important, as sepsis can cause death in a patient anywhere from 12 hours to a few days. If your normally cheerful loved one is declining and their caregivers are not giving prompt medical care, you must serve as their advocate by knowing the tell-tale signs of sepsis in the elderly.
Sepsis occurs frequently in nursing homes because of the spread of germs in the facility. In fact, nursing home residents are seven times more likely to have a severe sepsis diagnosis than those who did not live in a facility, according to a study in the Journal of Critical Care.
Residents who have frail skin, catheters, or an intravenous (IV) tube are more at risk for infection because of their open wounds. Additionally, elderly patients with limited mobility are also at risk of developing bedsores, which can become infected and lead to sepsis. Caretakers must take numerous steps to ensure the cleanliness of the resident and the facility itself, as this is an important step in preventing disease outbreak. Sepsis can be avoided with proper sterilization and care.
Other Important Signs of Sepsis in the Elderly
Nursing home residents are dependent upon others for their care, and this makes them vulnerable to injury and harm. Many have difficulty expressing their feelings, and those who suffer abuse or neglect may fear retaliation if they alert others to their situation.
There are important signs of sepsis in the elderly to watch for in regards to your loved one that may signal possible abuse or neglect. If you see any of the following signs, it's time to call a nursing home abuse Los Angeles lawyer:
There are important signs of sepsis in the elderly to watch for in regards to your loved one that may signal possible abuse or neglect, including:
Your loved one expresses apprehension when they see a particular caregiver.
Your loved one seems depressed or anxious.
Your loved one has unexplained bruises or scratches.
Your loved one wears dirty clothes and appears unbathed.
In worse case scenarios, your loved one may exhibit one or more of these signs of abuse or neglect. Statistics and data from the National Center on Elder Abuse reports that elderly people who face abuse or neglect in nursing homes are 300% more likely to die than those who are not abused.
If your loved one has a fever or an infection that is not clearing up despite medication, immediately notify nursing home staff as this may be a sign of sepsis in the elderly. Suspicions of nursing home abuse or neglect must be reported to the appropriate offices.
For a free legal consultation, call (800) 842-6336
Call Pintas & Mullins Law Firm For Help Today
When your loved one develops sepsis or their existing condition worsens due to nursing home neglect, we can help. At Pintas & Mullins Law Firm, we believe in holding nursing homes and their staff responsible for your loved one's pain and suffering.
Relocating to a new facility is often expensive. The move may require extra fees to accommodate your loved one on such short notice. These types of expenses, as well as your loved one's ongoing medical care, are losses you may be given compensation for via litigation. No one should pay out of pocket for losses that occur due to the negligence of others. If we are unable to settle your case out-of-court, we are ready and willing to go to trial. We offer free case evaluations, and we work on a contingency-fee basis, meaning you pay us nothing until we secure compensation for you.
The elderly deserve our love and respect. When you entrust someone you love to a nursing home facility, you never expect them to suffer due to neglect or abuse. Watching for signs of sepsis in the elderly, as it relates to your loved one can mean the difference between life and death. For more information about how we can help you, call Pintas and Mullins Law Firm today at (800) 842-6336.
Call or text (800) 842-6336 or complete a Free Case Evaluation form