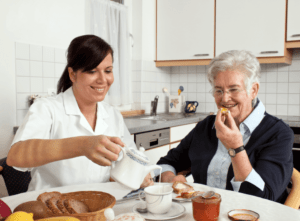 No matter the form it takes, nursing home abuse takes advantage of some of the most vulnerable people in our lives. When we place our loved ones in a nursing home, it's supposed to serve as a way to get them the assistance they need in order to live comfortably. In last week's blog post, we covered the steps you can take when you suspect nursing home abuse, but what can you do in order to prevent it from ever happening?
While it's not always possible to prevent someone from becoming abusive towards your loved one without staying by their side 24/7, there are steps you can take to provide support for your elderly loved one. The first crucial step is to support your loved one through their transition from home life to nursing home life. Not only are they moving from their home, they are giving up a certain level of autonomy they may have grown accustomed to over the course of their adult life. Neither of these things are easy to handle alone, so frequently visiting them during this early period is crucial. You can help foster relationships with other residents and staff members, which will both help you get a better grasp on your loved one's new home, as well as develop a network of people to speak to if you ever suspect an issue.
During this early transition period, your loved one may be treated as a new nameless face by the staff members who have yet to meet them. Help by introducing them to the staff they will be interacting with throughout the facility. Not only are people more likely to treat someone they know with extra care, this will give you a chance to ask questions about the specific of the care they will provide. Ensuring that comprehensive assessments of your loved one's health are properly conducted, as well as learning the healthcare regimen in place will give you a better picture of what to expect going forward.
For a free legal consultation, call 800-934-6555
Continuing to visit your loved one once the early transition period is complete is necessary in order to ensure that their needs are being met. Not only will you be able to continue to show care and affection for your loved one, you can use these visits to check up on their healthcare regimen, including the medications and treatments the staff are using in the regimen. By being an active participant in your loved one's life, you can better monitor their care and well-being.
If you suspect nursing home abuse and are looking to take the next step, it's important to hire an experienced nursing home abuse attorney to seek legal counsel. Contact California nursing home abuse lawyers if the abuse occurs in a California facility. Contact local attorneys if the abuse occurs in Arkansas or Arizona. The point is to respect each state's statute of limitations for personal injury or wrongful death. Moreover, your attorneys can use the state's specific legislation and provisions to hold the facility, its staff, or its parent company accountable for the victim's medical bills, pain and suffering, property damage or theft, etc.
Click to contact our lawyers today
At the Pintas & Mullins Law Firm, our Chicago nursing home abuse lawyers represent clients nationwide, and have the knowledge and experience necessary to create a plan of action that best suits your needs. Contact us today for a free case evaluation or give us a call at to set up a meeting with one of our attorneys.
Call or text 800-934-6555 or complete a Free Case Evaluation form