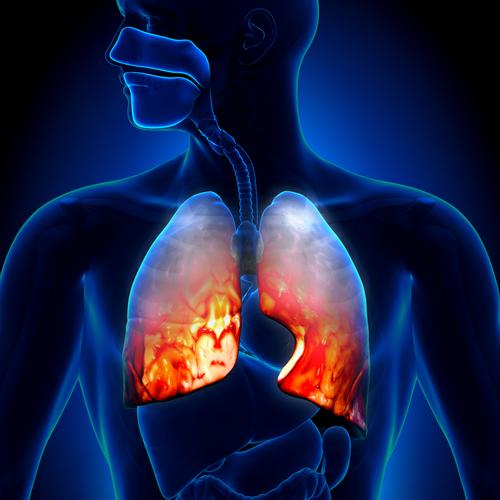 Lung cancer and some of the treatment methods often cause weight loss, but not all people lose weight with lung cancer. Some individuals experience other symptoms; others exhibit no symptoms at all. Patients who are concerned about weight loss can take appetite stimulants and nutritional supplements to maintain their weight.
How Lung Cancer Forms
According to the American Society of Clinical Oncology, if healthy cells change and begin to grow out of control, they can form a mass known as a tumor. A tumor can start growing anywhere in the lung.
If a malignant or cancerous tumor sheds cancer cells, they can travel to other parts of the body via the bloodstream and lymph nodes in a process known as metastasis. If a tumor is benign, it may grow, but it will not spread.
Lung cancer is the second-most common form of cancer. The American Cancer Society estimates that nearly 230,000 Americans will be diagnosed in 2020 alone. The number of new lung cancer diagnoses has declined in recent years.
Non-small cell lung cancer is the most common form of lung cancer, accounting for approximately 84% of lung cancer diagnoses. Non-small cell lung cancer begins in epithelial cells that line the airways and produce mucus. Small cell lung cancer, meanwhile, originates in the lung's hormone-produce cells or nerve cells.
The greatest risk factor for both types of lung cancer is smoking, but many lung cancer patients quit smoking long before diagnosis or never smoked at all. Small cell lung cancer almost exclusively affects people who have a history of smoking. Patients with non-small cell lung cancer may develop the disease due to smoking, a family history of lung cancer, and exposure to hazardous materials such as:
Asbestos
Radon
Toxic fumes
Radiation
Arsenic
Chromium
Nickel
How to Diagnose Lung Cancer
Non-small cell and small cell lung cancer may cause a variety of symptoms, including:
Loss of appetite
Weight loss
Fatigue
Cough
Hoarseness
Shortness of breath
Chest pain
Coughing up phlegm, mucus, or blood
Swelling in the face or neck
While weight loss is one possible symptom of lung cancer, you will not always lose weight with lung cancer. Some people show no symptoms of the disease. In those cases, doctors may first suspect a patient has lung cancer only after a person undergoes a CT scan for an unrelated reason.
Doctors may use one or more tests to determine if a patient has lung cancer and, if so, determine its stage based on the size and location of the tumor and whether it has spread.
For a free legal consultation, call (800) 217-6099
Possible Lung Cancer Treatment Options
Lung cancer may be treatable, depending on several factors:
Where it is located
The size of the tumor
Whether it has metastasized
Doctors use a variety of approaches to treat lung cancer, including chemotherapy, immunotherapy, radiation, and surgery. The treatment plan and prognosis depend on a patient's overall health.
Lung cancer causes more deaths than any other form of cancer. Survival rates depend on the type and stage of cancer and its progression. Death rates for lung cancer cases have declined in recent years because of earlier detection and improved treatments, but according to the National Cancer Institute, just over 20% of lung cancer patients survive five years or more after diagnosis.
Establishing Liability Due to Asbestos or Radon Exposure
Asbestos is a naturally occurring mineral used for decades because of its strength and fire-resistant properties. Many people, such as construction workers, firefighters, and mechanics, experienced asbestos exposure on the job for years and developed cancer decades later. Many common household products also contained asbestos. Manufacturers continued to use asbestos even after they learned that it could cause cancer.
Radon is a radioactive gas derived from radium and produced when uranium, thorium, or radium in water, rock, and soil breaks down naturally. The Environmental Protection Agency estimates that radon exposure is the leading cause of lung cancer in non-smokers.
People may suffer radon exposure when it seeps into buildings through foundation cracks and becomes trapped. Since radon gas is odorless, people may breathe in radon regularly for a long period of time and be unaware that they are being exposed. Building owners and employers often do not test for radon or take appropriate steps to protect residents or employees.
Click to contact our lawyers today
Seek Financial Compensation for Your Lung Cancer
Being diagnosed with lung cancer can prove devastating. You may wonder what caused your cancer, especially if you never smoked.
If your lung cancer was caused by exposure to a carcinogen in your environment, such as asbestos, radon, or another dangerous substance, you may be entitled to financial compensation. Since 1985, Pintas & Mullins Law Firm has represented thousands of people who suffered because of a third party's negligent acts and helped victims seek justice.
Our firm works on a contingency basis. That means that you will not pay us unless we obtain a financial award on your behalf. Call our office at (800) 217-6099 to discuss your legal options with a member of our staff.
Call or text (800) 217-6099 or complete a Free Case Evaluation form