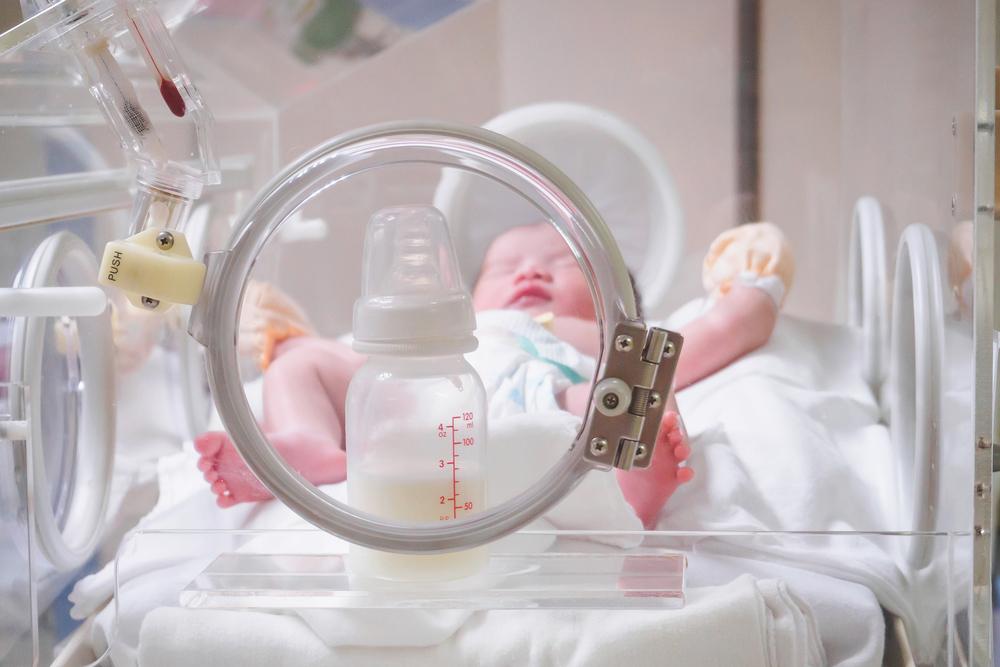 Necrotizing enterocolitis (NEC) is a dangerous condition that can have serious lifelong and even fatal consequences for premature infants. As the parent of a newborn who was diagnosed with NEC, you are most likely facing fear, stress, uncertainty for your child's future, and the pressure of mounting medical bills.
What many parents may not realize is that feeding cow milk-based formulas like Enfamil and Similac can be deadly for their baby. The manufacturers that you trust to keep your child healthy and safe are not adequately warning doctors or parents that their products have been linked to NEC.
Do You Have a NEC Lawsuit?
No matter how long your family has been struggling with the effects of necrotizing enterocolitis, you may have only recently become aware of the risks of milk-based formulas. You may also be wondering if you should file a lawsuit, but do you have a valid claim?
You may be a candidate for a baby formula lawsuit if your case meets these conditions:
Your child was diagnosed with NEC.

You incurred

damages

(associated costs) as a result.

You believe cow-based baby formula was a contributing factor to your child's diagnosis.
Your NEC baby formula lawsuit lawyer will conduct an investigation, and get experts to build your case.
Studies Have Shown That Cow-Based Baby Formula Is Not Safe
There have been studies linking necrotizing enterocolitis to cow-based baby formula dating back to a study that was published in the Lancet in 1990. Since then, several studies have been published, including a recent study in the Journal of the American Academy of Pediatrics. 
These are respected publications that publish only peer-reviewed information, so there is no excuse for the disconnect between this information and the information that parents receive except willful negligence on the part of manufacturers and other parties who are afraid the truth will cut into their profits. 
Why Formula Manufacturers Are Liable for Damages
The manufacturers know that cow-based formula is linked to NEC. Despite knowing that these products increase NEC risk in infants, premature babies who are especially at-risk are still often given these formulas — and the parents are not warned of the dangers.
If parents were aware of the risks, they would never willingly allow their vulnerable preemies to receive formula that could hurt or even kill them. This often happens because the doctors themselves do not know, and this is because the manufacturer withheld the information. 
Formula manufacturers have failed to take reasonable steps to protect the health of the innocent babies who depend on these products, they are now legally liable. 
NEC Baby Formula Lawsuit FAQs
If your baby was harmed by cow-based baby formula, you may be thinking about filing a lawsuit but unsure where to start. Here are answers to some of our most commonly asked questions about baby formula claims to help you get started:
Which Baby Formula Has a Lawsuit?
Who Can File a NEC Baby Formula Lawsuit?
Are Enfamil and Similac Formulas Dangerous?
Have Enfamil and Similac Been Recalled?
Which Types of Baby Formula Could Cause NEC?
Which Baby Formula Has a Lawsuit?
Lawsuits have been filed against Abbott Laboratories and Mead Johnson, manufacturers of Similac and Enfamil. Mead Johnson has also seen its share of scandal, including one incident in which they were fined for making improper payments to health officials in exchange for recommending their products to new parents in hospitals. 
Similac and Enfamil are the two most popular brands on the market, with each controlling 40%. Because of this, there is likely to be a rise in claims in the future. 
These lawsuits are being filed by parents who need to cover the cost of treatments, lost work, and other expenses that are related to their baby's care. In the worst cases, these parents are also seeking compensation to cover funeral and burial expenses for their baby. Other parents need help covering the steep costs of dealing with their child's lifelong complications.
Who Can File an NEC Baby Formula Lawsuit?
Parents and certain other guardians may be able to file a lawsuit for necrotizing enterocolitis caused by baby formula. Your attorney can tell you whether or not you are eligible to file a claim.
Are Enfamil and Similac Formulas Dangerous?
For some infants, Enfamil and Similac are healthy and safe, but there is always the risk of digestive diseases when an infant is fed with cow-based formula. For premature babies who are known to be at risk for necrotizing enterocolitis, cow-based baby formulas like Similac and Enfamil have been shown to be at higher risk of developing NEC. 
Have Enfamil or Similac Been Recalled?
As of the writing of this article, The Food and Drug Administration has not recalled Enfamil or Similac baby formula. Despite the fact that Abbott Laboratories is aware of the connection between these products and NEC, they have also not chosen to voluntarily recall the product, nor have they updated their packaging to include any type of warning. 
Who Makes Similac?
Similac baby formula is manufactured by Abbott Laboratories, a corporation that has seen its share of violations and controversy. In one case, the manufacturer was ordered to pay $1.6 billion when they misbranded a drug. 
Abbott is a large manufacturer that has contracts with many hospitals that have agreed to use Similac products. If your baby developed NEC while they were in one of these hospitals, it could be connected to Similac.
Which Types of Baby Formula Could Cause NEC?
Your lawyer will need to provide documentation that proves what type of formula your child was receiving when they were diagnosed with necrotizing enterocolitis. If your preterm infant developed NEC after receiving any of the following formulas in the NICU, cow-based formula could have been a contributing factor:
Earth's Best

Enfamil

Gerber

Go & Grow

Happy Baby

Parent's Choice

Similac
This is not a complete list of baby formulas that contain milk. You should investigate the ingredients of any formula your baby has ingested if they've been diagnosed with NEC.
Damages You Can Claim in an NEC Baby Formula Lawsuit
One study published in BMC Pediatrics in 2013 showed that parents who have children who have recovered from NEC face significant expenses. This study, which examined the costs of living with the condition beyond the period of initial hospitalization, showed that many parents will face significant costs. Some of the costs you may face include:
The cost of your baby's medical bills, including doctor visits and hospitalizations 

The cost of medical transportation and modifications to your vehicle

The cost of disabled modifications to your home

The wages you missed while your baby was receiving treatment

The cost of caretakers

Compensation for lost wages if you are now unable to work

The cost of special education

The cost of physical therapy
These expenses quickly overwhelm most parents. Getting a settlement can give you some relief while helping you to make sure your child is getting the services and support they need. This is especially critical in these types of cases because often the success of various treatments will depend on how soon they are administered. 
What to Expect When You File a Lawsuit Against Similac or Enfamil
When you file a lawsuit against a formula manufacturer, your attorney will ask you for documentation that can help prove your claim. This may include:
Medical bills

Medical records

Receipts of expenses
We will also ask you to provide testimony and documentation that demonstrates the effect your child's injury or death has had on your lives, financially, logistically, and emotionally. 
Once we have this documentation and we have had a chance to build your case, we will draft a complaint that will then be sent to the defendants. From there, we will exchange documents and other evidence as necessary then try to reach a fair settlement agreement. 
If we are unable to reach a fair settlement agreement or the other party is unwilling, we won't hesitate to see them in court. 
How Much You Can Get in an NEC Formula Lawsuit
At this time, lawsuits filed by parents of babies who were harmed by baby formula have settled for anywhere from $300,000 to $3.5 million. These figures are based on the severity of the injury and the total value of the economic and non-economic damages involved in the case. 
To see if you have a claim, schedule a free claim review with Pintas & Mullins. 
Liable Parties in a Baby Formula NEC Claim
Formula manufacturers are just one potential liable party in a lawsuit for NEC caused by baby formula. A doctor or medical facility could also be responsible if it can be demonstrated that they were aware of the risk to preterm infants but failed to tell you. 
Your personal injury lawyer will review and investigate your claim then identify all potentially liable parties. By holding all at-fault parties responsible for the harm they caused, you could help protect other babies and their parents in the future. 
The Deadline to File a Baby Formula Lawsuit
Baby formula lawsuits for necrotizing enterocolitis are product liability lawsuits, which fall under the personal injury umbrella. The deadline to file this type of lawsuit will vary from state to state. This deadline is known as the statute of limitations.
Which state's statute of limitations will depend on where you live and where you were located when your child was injured. The deadline can also depend on when the full extent of your baby's injury was discovered or should reasonably have been discovered. In some states, you may have as many as 21 years to file. 
It's important to speak to a lawyer who represents NEC baby formula claims to learn more about the deadline in your state. Once this date passes, you will not be able to file a claim, so time is of the essence.
Find Out If You Have a Valid NEC Baby Formula Claim
Whether you're ready to file a claim or you simply have questions, the legal experts at Pintas & Mullins Law Firm are ready to help. We offer no-obligation consultations that are 100% confidential and free of charge. 
Let us walk you through the steps of your NEC baby formula lawsuit. You can count on us to fight for justice on behalf of your child. We will use our knowledge of the law to get you the compensation you deserve.