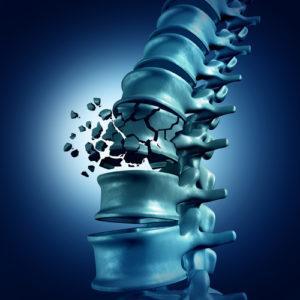 Certain health conditions and lifestyle factors can cause the vertebrae to collapse over time and result in a compression fracture. This injury is particularly harmful to nursing home residents since compression fractures may cause bone fragments to press against the spinal column and disrupt the flow of oxygen and blood to this vital area.
While health conditions like osteoporosis are the most common causes of vertebral fractures, their appearance may also signal that your family member is not receiving adequate care and attention from nursing home staff. If you believe that nursing home abuse or neglect is playing a role in his or her injuries, it is critical to investigate the surrounding circumstances.
Causes of Vertebral Compression Fractures
Older adults frequently experience compression fractures more often than other individuals. Therefore, these spinal injuries are not extraordinarily unusual within the context of age and health.
However, the occurrence of such a fracture is less surprising when there is a known health condition that increases their likelihood. Otherwise, it seems that the treatment of the nursing home resident is the next cause if he or she does not have any medical issues.
Potential causes of spinal compression fractures at nursing home facilities may be caused by:
Osteoporosis.
Pre-existing diseases.
Force trauma.
Medical malpractice.
Physical abuse and neglect.
It is challenging to determine if these spinal injuries are caused by abuse or neglect since the bones of older adults are frail due to the natural aging process, and the risk is even higher in women. You should discuss how the injury to the spine happened with your family member and nursing home staff to confirm or deny any suspicions related to abuse, neglect, or malpractice.
Treatment for Compression Fractures
Without treatment, vertebral fractures can significantly diminish the quality of your family member's life or result in death. Depending upon the severity of the spinal injury, his or her physician may recommend one of three treatment options.
According to Wolters Kluwer Health, these are the three recommended treatment options for aging adults experiencing compression fractures:
Conservative treatment: This option is a combination of medication, bed rest, physical therapy, and braces. However, nursing home staff must ensure that your family member does not remain immobile for too long to avoid developing bedsores.
Vertebroplasty: This minimally-invasive procedure uses a large needle to treat the affected area by injecting bone cement aided by imaging tools.
Kyphoplasty: This procedure is more intensive and requires your family member's physician to place an inflated balloon into the cavity to elongate the spine. Once elongated, bone cement is injected into the open cavity.
Make sure that you track the progress of your loved one following treatment or surgery. Older adults have bones that heal slower than younger individuals, which means that an adequate amount of time must past.
It is also helpful if you take adequate notes about your family member's progress and retain copies of medical records and invoices in case you need to refer to them in the future. Never be afraid to ask his or her doctor tough questions about the fracture to rule out any suspicions of nursing home abuse or neglect.
For a free legal consultation, call 800-934-6555
Pursuing Legal Remedies for Abuse of the Elderly
While health conditions and accidents are unavoidable, there are many situations in which a nursing home could be held liable for your family member's vertebral compression fracture. For instance, if staff members drop him or her during a bed transfer and cause a compression fracture, then this situation allows you to file a claim for compensation related to his or her financial, physical, and emotional harm.
Ultimately, nursing home operators and staff members should be aware that older adults require extra attention, especially if they are prone to accidents and falls. Adequate monitoring and assistance are required for the facility to adhere to the required duty of care that it owes its residents.
Contact A Nursing Home Abuse Lawyer Today to Get Started
After reporting the occurrence of nursing home abuse and securing your loved one's well-being, you and your family member have likely endured financial losses related to the injury. You can file a claim for compensation related to medical expenses, relocation costs, future medical care, and/or wrongful death awards.
The compassionate nursing home abuse lawyers at Pintas & Mullins Law Firm are prepared to help your family attain the compensation it deserves. Our legal team welcomes you to contact us for an initial consultation at no cost to you by calling (800) 842-6336.
Call or text 800-934-6555 or complete a Free Case Evaluation form